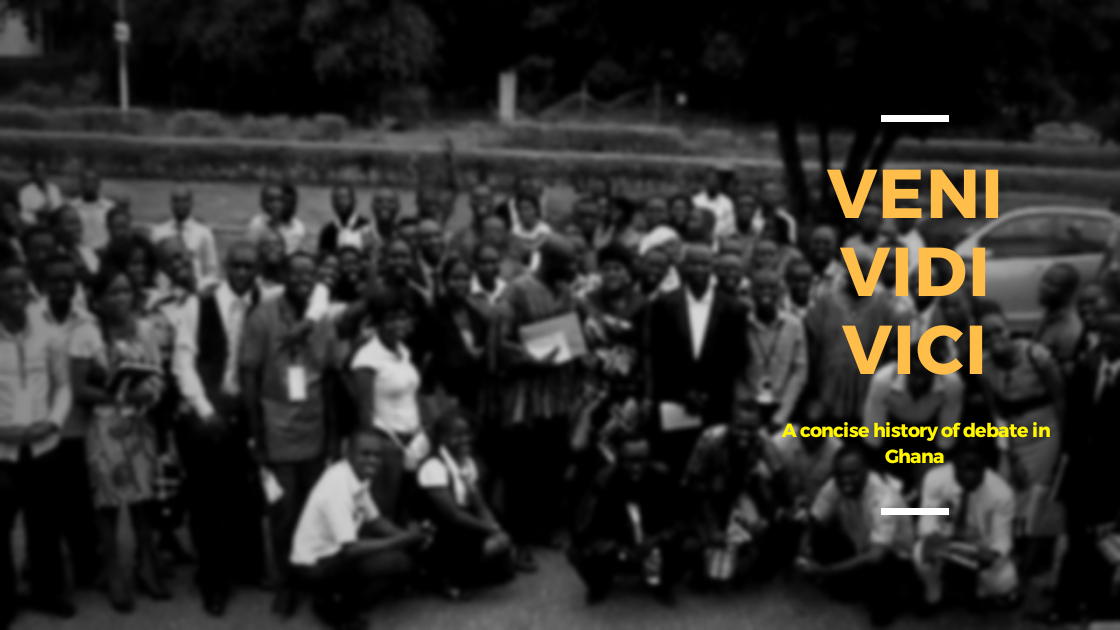 Introduction
History accounts for the existence of some form of democracy or debates in precolonial Ghana. Our traditional culture shows how chiefs ruled, guided by elders and the contributions of subjects of their kingdoms. Our Independence struggle to date records instances of many engaged in discourse and debate on issues affecting Ghana. Today, we have what is often referred to as the 'Ghana Debate Community' comprised of young persons, institutions and organisations interested in the development of intellectual discourse in Ghana.This article attempts to develop a culture of debate writing and map out what we, the writers call the 'debate history of Ghana'. It seeks to briefly give an account of major organisations and events worth recalling in respect to tertiary and related debating in Ghana. Part 1 briefly narrates major happenings from 2011 to 2019. Part 2 gives an account of important competitions and the performance of Ghanaian debaters in same. Part 3 seeks to acknowledge all persons who contributed in diverse ways to the development of the sport, debate.
The beginning: 2011
The journey clearly commenced in 2011 when the British Parliamentary (BP) style of debating was introduced. Prior to, there existed the National Senior High School (Independence Day) Debate Championship which used a three-against-three style of debate without fixed rules. We have come to know that form of debate as a mere eloquence and confident contest for senior high school debaters. This type of debate is different from other globally recognized debating styles like the British Parliamentary, world school style, Public policy etc. that focuses more on critical thinking and team engagements without external influence within a limited preparation period, rather than excessive priority on eloquence, language fluency with extended preparation period mostly facilitated by teachers and coaches. For the purpose of this article and the trajectory of debate in Ghana thus far, our focus will be on British Parliamentary style of debate, the most widely used debate format in the world.
Debate Ghana Association, an NGO led by Christian Malm Hesse then, organized the first British Parliamentary debate at Catholic University College, Sunyani. Debate Ghana sought to introduce the internationally recognized debate format in other universities including Kwame Nkrumah University of Science and Technology (KNUST) and University of Ghana. For sometime now, University of Ghana was involved in a bilateral debate competition with the University of Ibadan as part of their annual intervasity games. At this stage of our history, debate societies were sprouting. University of Ghana Debate Society (UGDS) had been in existence before DGA's introduction but experienced new growth shortly after the introduction to the British Parliamentary format. KNUST Debate Society (KDS) was formed just around this time. These two societies will go on to become the giants in the African debating community.
Springfield: 2012
The first national tertiary debate competition dubbed 'Ghana Tertiary Debate Championship' (GTDC) was organized in 2012. The competition was hosted by University of Ghana and organized by Debate Ghana Association with support from Open Society Initiative (OSI) and International Debate Education Association (IDEA). Nadia Oppong and Pizarro Mandela Sherrif of KNUST were crowned winners and earned their places in the history books.
Later that year, University of Ghana and KNUST participated for the first time in the Pan African Universities Debate Championship (PAUDC) popularly referred to as 'Pans'. Pans 2012 was hosted by Tshwane University of Technology, Pretoria. PAUDC is Africa's most prestigious inter-tertiary debate championship which was started in 2008 by University of Botswana. The two schools representing Ghana at this year's tournament competed under the Debate Ghana umbrella, led by Mr. Malme Hesse. This year, undoubtedly, laid the foundation for university debating in the country.
Sweet and Sour: 2013
This year, the national tournament grew bigger with more students and universities participating. University of Ghana, KNUST, Islamic University College and Knustford University College, all from Ghana participated. The competition also hosted students from the University of Lome and a delegation from Burkina Faso. University of Ghana hosted and won this edition with Antonio Asinyo and Joyce Okyerewaa Danso.
Knustford organized their first inter-tertiary debate competition dubbed 'Knutsford Vice Chancellor's Debate Competition' with assistance from Debate Ghana. This was an invitational tournament for mainly Accra based institutions. University of Ghana participated and won that competition.
Early December that year, Ghana was well represented at Pans this year which was hosted by the University of Calabar-Nigeria. University of Ghana, KNUST and Islamic University participated in what was the first PAUDC organized in West Africa. It is also worthy of note that, this was the first time the competition was being organized outside Southern Africa. After nine preliminary rounds, KNUST had four teams qualifying to quarter-finals with one of the teams (made up of Zayan Imoro and Patrick Dapaah Kwao), making it to the semi-finals. This was Islamic University's first pans experience and they made it to the semi finals with the only team they had in the competition. Duke Aaron Nana Sasu who led the KNUST delegation was also crowned Africa's best public speaker at the tournament. After having attended Pans twice, University of Ghana and Debate Ghana Association led by Mr. Malme Hesse submitted a bid and won, to host the 2015 edition of Africa's most prestigious tournament for the first time in Ghana.
This year saw major friction between debate societies and Debate Ghana. These disputes, which mainly seemed to border on transparency and operational challenges within the association, will persist till the societies completely break away from the NGO, broaching a new path for debate organisation and promotion. We call this era sweet and sour because it reminds us of Iddriss Sajjad Toppoh of Islamic University. He led his school to qualify for the semi finals and earned the nickname 'Al Param', because he always wanted to set parametres in any debate from any given role. Sajjad was instrumental in the rise of Islamic University's debating culture from 2013 to 2015. Sadly, he passed on in 2017 after a short battle with cancer. May his soul rest in peace.
Springboard: 2014
2014 was the springboard for the debate community. New societies were established and introduced to British Parliamentary style, civil society groups took interest in the sport and debate in the country took off. University of Ghana Debate Society with the support of African Heights Foundation (AHF) and Open Society Initiative of West Africa (OSIWA) organized the society's, and perhaps Ghana's, first ever internal competition, dubbed, Vice Chancellor's Debate Championship (VCDC). This partnership will be the beginning of a four year relationship between the debate community and African Heights and OSIWA.
This year also saw the end of GTDC after Islamic University College organized the tournament with support from Knustford University College. The competition was not organized again after this year. The friction between societies and Debate Ghana had chrystalised beyond dispersion. The competition had participants from University of Ghana, Islamic University, Knustford etc. all from Ghana. From Nigeria, the competition hosted students from the University of Calabar, Imo State University and University of Port Harcourt. We also had participants from University of The Gambia.
The highlight of this year's national competition was the 'PDS' brouhaha. KNUST had withdrawn from participating in GTDC this year because of their unresolved issues with DGA. However, a team of students from KNUST acting without the 'explicit' approval of the KDS executives participated in the tournament. The 'divergents' chose to call themselves 'Progressive Debate Society (PDS)' and one of their teams (Boakye Nyamekye Isaac and Anane Agyei Lenin) from this group went on to win the competition. The use of 'Progressive' in their name will later spark more disputes within KNUST debate circles. This raised some fundamental questions on how debaters can acees competitions outside their societies without causing problems internally. Open debate tournaments became the solution.
In July 2014, the Ghana University Debate Association (GUDA) was established and this was the final blow to Debate Ghana Association. GUDA constituted a political debate organisation with membership of students, from active debate universities in Ghana. Dr. Bella Bello Bitugu, Director of Sports of University of Ghana was the first patron of the Association.
The Ghana University Debate Championship (GUDC) was also launched. University of Ghana hosted and won the first edition of the competition in October. Prince Asamoah and Michael Owusu Frimpong made up the winning team. This edition edition of GUDC would later be nicknamed 'mini-GUDA' because of how quickly it was organized in the year and how it was to serve as a frame for a larger picture in years to come. New institutions like Central University, Ghana Technology University College (GTUC), University of Professional Studies Accra (UPSA) and University of Development Studies (UDS) participated in this competititon. University of Capecoast Debate Society that was formed earlier in the year came to observe.
Speech Forces was birthed in 2014. The organisation will go on to organize many open debate competitions and train debaters all over Ghana. Credit is given to its founders later in part three of this series.
In December, Ghana was represented at pans and for the first time, without Debate Ghana Association involvement. KNUST, University of Ghana and Islamic University participated in the competition which was hosted by University of Limpopo, South Africa. One team, Adu-Poku Richard and Aurelia Abena Attipoe from University of Ghana qualified to the Octo-finals. This was a remarkable feat because it was the first time a team in West Africa had qualified from the preliminary rounds in the competition hosted in Southern Africa.
The Opening of Accra: 2015
In 2015, Ghana's tournaments numbers grew bigger, the country hosted Africa and the national debate competition will be held out of the capital for the first time. Ghana also debated the world.
University of Ghana became the first institution to send teams to represent the country at the biggest stage, World Universities Debate Championship. (WUDC). Early in the year 2015, students from UG including Antonio Edem Asinyo, Dawud Yakubu, Marietta Ayisi and Caleb Kudah participated at WUDC with scholarship from the host institution in Malaysia. Their experience sparked the desire of Ghanaian debaters to go for worlds in subsequent years.
Back in Ghana, after months of planning, the now famous Accra Open Debate Championship (AO) was organized for the first time in June. The first edition of Accra Open was convened by Eric Asamoah Awuah. Abdul Karim Ibrahim (UG) and Joel Telfer (KNUST) became the first winners of the competition. The now 'arguably' most competitive open debate in Africa, was an initiative of Speech Forces. There were forty (40) debate teams in attendance with participation from Ghana, Nigeria and The Gambia. Accra Open ushered in a new community for debate in West Africa, now popularly referred to as the West African Debate Community.
In July, GUDC was hosted by KNUST and won by Samuel Amoako Kusi and Ida Emefa Masley of the same institution. Antonio Edem Asinyo convened Ghana's first PAUDC in University of Ghana. We saw massive growth in the local debate community. Ghana Institute of Management and Public Administration (GIMPA) and Zenith University College took part in the competition for the first time. Ghana had three teams in the Semi finals. Elikplim Katahena and Jacob Johnston Attakpa of KNUST became the first Ghanaians to make finals on the African stage. This was a great year. The Ghana debate community grew. They created a whatsapp and facebook groups. Friendship and rivalry, between individuals and institutions, were beautifully created. The sport became a true love affair for many.
This year, Eric Asamoah Awuah was appointed to the Chief Adjudication Panel (CAP) of Nigeria's national debate championship in Owerri. He travelled to Nigeria with Adu Poku who was participating in the competition as an Independent Adjudicator. Shocking stories are told of one bus trip they made within Nigeria which caused a shiver in their bones. Eric and Adu-Poku recall a near-death incident that happened on the highway in Ogun state one night. They had, together with colleagues from South Africa set out late night in a bid to catch an early flight in Lagos the next morning but eventually had to miss it. There was a massive highway armed robbery operation in play which got everyone abandoning the bus, and into the bush in search of safety. They found one another hours later the next morning fortunately with no harm to any, and continued their journey to Lagos. From this time, many Ghanaian debaters (often privately funded) begun to travel abroad (especially to Nigeria) to participate in debate competitions.
Dawn of a New Era: 2016
The second edition of Accra Open was organized and convened by Derrick Ackah-Nyamike, the then president of University of Ghana Debate Society. Abdul Karim Ibrahim and Joel Telfer won the tournament for the second time and will later become CO-Chief Adjudicators for the 2017's edition. GUDC was held in Cape Coast for the first time where Isaac Boakye Nyamekye and Samuel Amoako Kusi of KNUST won the competition.
KNUST Debate Society through the leadership of Joel Telfer, introduced the Hogwarts Round Robin Debate Competition to the community. This tournament was to host the best performing debaters in Ghana for a two-day competition. The first edition was won by Antonio Edem Asinyo and Michael Owusu Frimpong (both of University of Ghana). Hogwarts will later be open to other nationals in some of the editions. Prince Asamoah and Eric Asamoah Awuah were on CAP for the second Masters Round Intervasity debate competition in Calabar, Nigeria. Antonio Asinyo and Eric Asamoah Awuah later were on CAP for the third Nigerian nationals hosted by Covenant University in July.
Ghanaian debaters participated in PAUDC hosted in Zimbabwe by Midlands State University. Jacob Johnston Attakpah and Elikplim Katahena (KNUST) this time, made semi finas with the latter being crowned as the 5th best speaker in Africa. This was also the year in which Debate Aboki was started by Shafic Osman from University of Ghana to train senior high school debaters in some selected schools in Accra. This project was funded by American Field Services.
Institutionalization: 2017
In 2017, Prince Assamoah, Aurelia Attipoe, Samuel Ofosu Assamoah and Ziyaad Ibn Shiraz all of University of Ghana represented Ghana at Worlds. WUDC this year was hosted in the Netherlands. The team of Prince and Aurelia accumulated higher points than their Ghanaian predecessors at Worlds and this feat will only be bettered in 2019. This year saw a sharp increase in tournaments in the local circuit as well. In 2017, we had the Easters Cup, Accra Open, Trans City Open, Chancellors Cup, GUDC and Hogwarts. Accra Open, Trans City and Chancellor's were all held within three weeks and branded as 'A tale of three Cities'. At this point debate became an art, a lifestyle, a family and love. Debate societies were growing in quality and in numbers.
Speech Forces started Easters Cup, an easter weekend tournament. Prince Asamoah and Erasmus Segbefia won the first edition. Adekunbi Ademola and Faithfulness Okom (Univeristy of Ilorin and University of Calabar respectively) won Accra Open. The same team won Trans City Open. Derrick Ackah-Nyamike and Abdul Karim Ibrahim won Chancellors Cup. GUDC for the first time was hosted in Sunyani by University of Energy and Natural Resources (UENR) . This year's nationals was won by Jacob Johnson Attakpah and Joseph Mireku Nti (KNUST).
Pans was hosted by University of Beaua in Cameroon this year. Ghana was represented at Pans by Edward Kojo Sekyere of University of Ghana (Tab master) and Emmanuel Gbeve of Islamic University. Gbeve was crowned 2nd best Judge in Africa. No Ghanaian teams participated due to expressed security concerns in Cameroon by the various institutions at the time.
Like Stars in the Sky: 2018
University of Ghana again represented Ghana at WUDC with a team of Sandra Paye and Jeremiah Sekyi. Jeremiah Sekyi was a semi finalist in the Public speaking competition. This same year, Isaac Boakye was crowned best speaker in Africa. Isaac Boakye and Erasmus Segbefia of KNUST won, a history making, PAUDC in Tanzania. The two became the first West African debaters to win Africa's most prestigious competition. This year at Pans, Ghana had two teams in the finals, one each from KNUST and University of Ghana.
Genesis Debate open, a new Speech Forces organized tournament in January was won by David Ejim and Hawau Abikan (Univeristy of Ilorin, Nigeria). The second edition of Easters Cup was won by Erasmus Segbefia and a promising new speaker, Andrew Terkpertey. Accra Open was won by Abdul Karim Ibrahim and Derrick Ackah-Nyamike. GUDC was won by Jacob Johnson Attakpah and Isaac Duah (KNUST) in Tamale. This GUDC is infamous for the University of Ghana's delegation boycott of the Grand finale. KNUST at this point, became four time winners in a roll of Ghana's prestigious debating competition.
Epic: 2019
Jeremiah Sekyi was crowned best public speaker at WUDC in Capetown becoming the first African to do so in the process. PAUDC was won by KNUST's Erasmus Segbefia and Michael Ampah. At this year's tournament, hosted in Kumasi, Ghana had three teams in the debate finals, two from KNUST and one from University of Ghana. This feat, in the opinion of the writers, cemented Ghana's position as a formidable force in the African debate community.
Earlier in January, the second edition of Genesis was won by David Ejim and Prince Asamoah. The third edition of Easters Cup was won by Isaac Boakye and Michael Ampah while Erasmus Segbefia and Derrick Ackah-Nyamike won the fifth Accra Open. GUDC was hosted by All Nations University College, Koforidua. For the first time, University of Capecoast won Nationals. This will be the first in history that a school besides University of Ghana and KNUST would win the tournament. The winners were Kojo Pinkrah and Mylo Dadzie.
Veni Vidi Vici: 2020
The story is told of Julius Caesar's famous victory against Pharnaces II of Pontus at the Battle of Zela. His victory is often described as one of the swiftest in history. Like Julius, we came, we saw and we conquered. Through wit, courage and tenacity, debate in Ghana has been transformed significantly. Our article seeks to highlight our journey from the past, present and those yet to come, and to locate with ease the contribution of many to the development of this wonderful sport and culture of debate in Ghana. The end is just the beginning.
---
Written by:
Derrick Ackah-Nyamike Esq.
Eric Asamoah Awuah