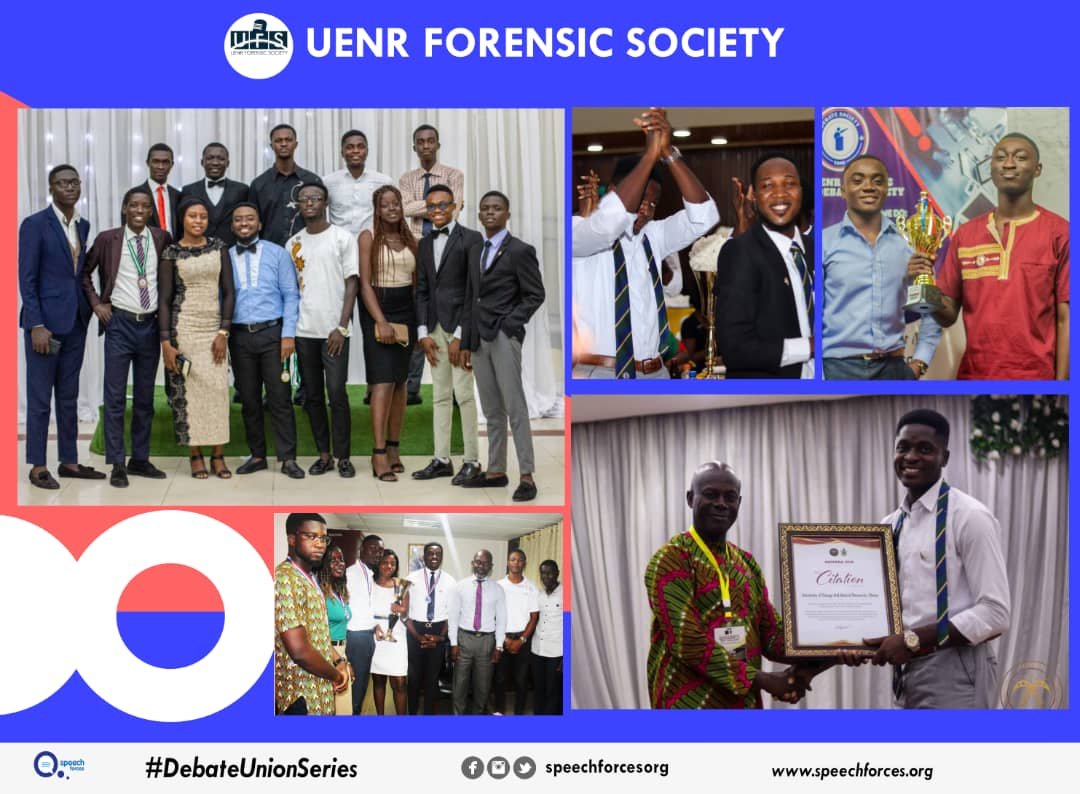 The now University of Energy and Natural Resource Forensics Society started out as the UENR Writer's and Debaters Club in 2013 with a founding membership of five. The traditional style of debate with two teams was the format practiced at the time. The society's first encounter with the British parliamentary style of debating was in December 2013 and it has since become the norm.
In April 2015, after the rollercoaster ride in tournaments and school bureaucracies, the society was officially inaugurated. The membership of the UFS is open to students, alumni and special guests. At the moment, the society has over 50 members. Members are frequently engaged in skills training, community engagement, civil participation and reaching out to high school debaters. Weekly general meetings on happens on Wednesdays. In addition, specialized meetings are organized during the week for debating, writing and public speaking.
They first appeared in an external tournament in the 2015 edition of the Ghana Universities Debate Championship held in KNUST. They did well in this first outing and were particularly exceptional during the public speaking rounds. A lot has happened since their competitive debut in 2015. They have excelled largely in many subsequent tournaments. As the host of the Ghana Universities Debate Championship in 2017, the society demonstrated their organizing capacity of their members and opened up the serene city of Sunyani to the national debate community. 
The UFS envisions to, through the use of debate and dialogue, find solutions to critical issues facing civil participation in society. Typical activities for a year at the Society includes a series of internal competitions to build the skills of members. Their members are encouraged to participate in open tournaments, public speaking events and writing competitions throughout the year. The annual Ghana Universities Debate Championship concludes the activities for the academic year. In December 2019 and for the first time in their history, the society took part in the annual Pan African Universities Debate Championship where one of their delegates made the top 3 public speakers in Africa. You can find more on their activities here. 
The society is noted for grooming top public speakers in the debate community. They are developing incredibly fast into a high level debating society in Africa. Notable names like Romeo Tweneboah Kodua, Kwesi Abraham, Rodge Eyabaa Yeboah are all exceptional talents from the society. The UNER FORENSIC SOCIETY has impacted student lives in the University of Energy and Natural Resources immensely and we look forward to seeing them making giant strides in the world.